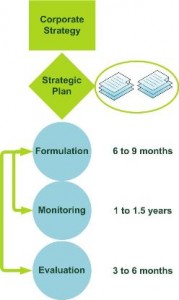 At Gulfstrategic Strategic Management is outlined in 3 stages:
A. Strategic Plan Formulation: in this stage we work on the creation of the strategic plan with its defined programmatic goals. The plan will include set of rules created in relation to current company status, capabilities and core competencies in addition to the market key success factors. The plan is set for immediate implementation with proper guidelines.
B. Strategic Plan Monitoring: in this stage we extend our experience in strategic plan implementation to the client to maintain focus on the approved plan and dynamically update the plan when required.
C. Strategic Plan Review: in this stage we manage to connect outcomes and results to the original programmatic goals of the plan to assess effectiveness and direction.
Each of the stages is characterized with unique processes that enable optimum results. The processes are created by the experience of Gulfstrategic experienced staff members.